Gospel Hour June 3&4
 

Sir Winston Churchill Square
Africanival 2023 - June 3 & 4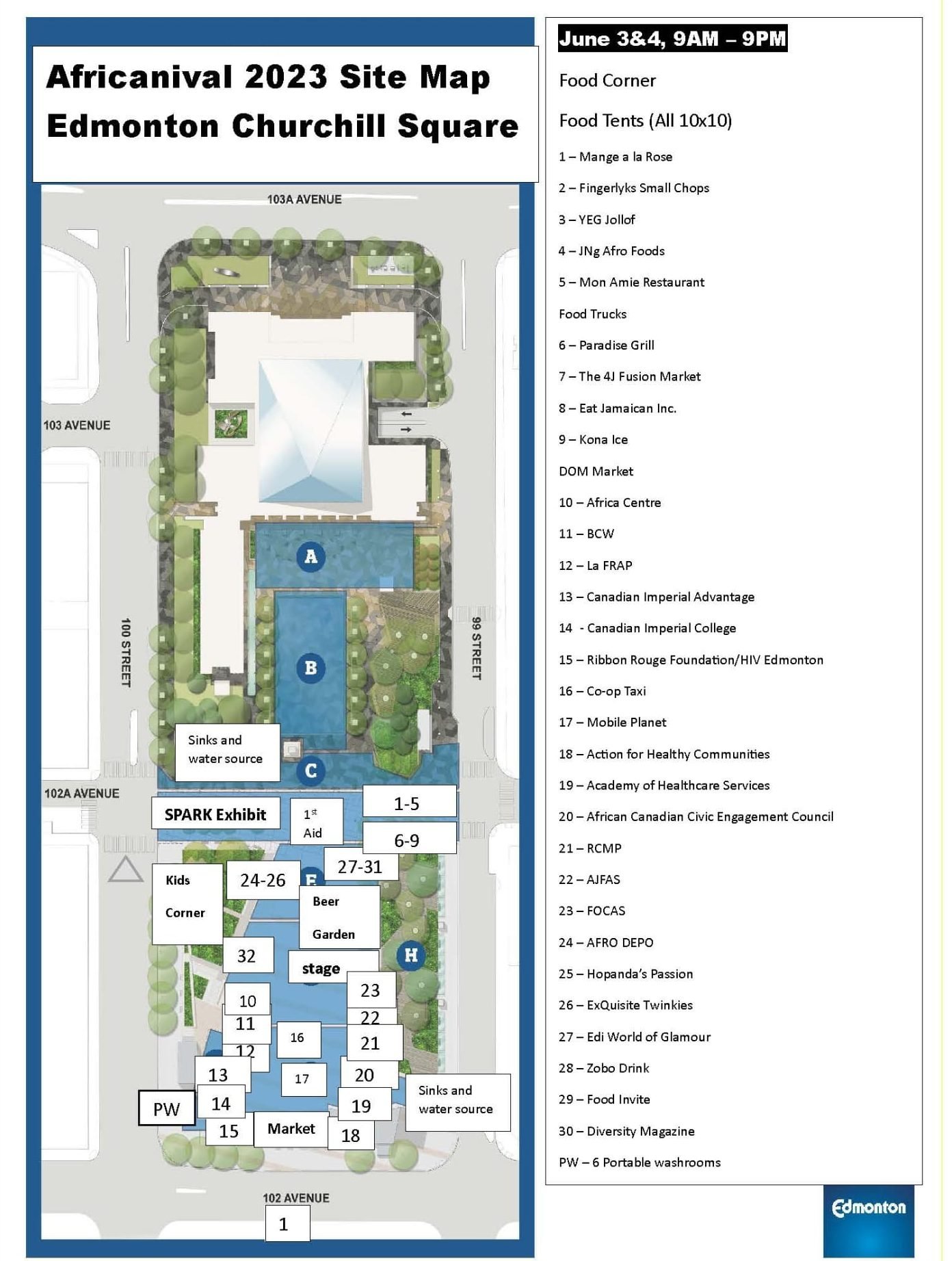 Get ready for the show on Saturday June 3, and Sunday, June 4, 9AM – 9PM, at Churchill Square and at the Muttart Theatre in Edmonton downtown Library.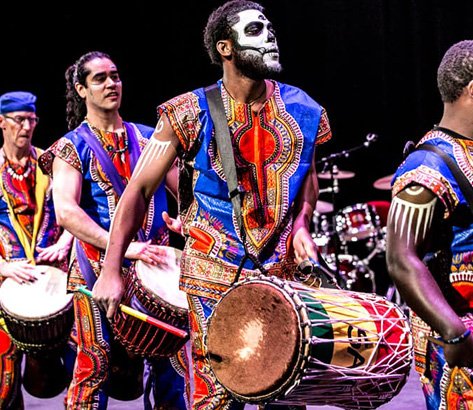 The Agenda
SUNDAY, June 4, 9am – 8pm
10:00 – 1:00 Warm up with Reggae Tone and Ivan
1:30 – 1:50 Wajjo Drummers
1:50 – 2:10 3 Master Drummers
2:10 – 2:30 Bashi Cultural Dance Group
2:30 – 2:40 Radwa Egyptian Folk Dance
2:40 – 3:00 Sizwe Marimba Group
3:00 – 3:10 Don Dee
3:10 – 3:20 Simply Gabriel
3:20 – 3:30 Break
3:30 – 4:00 Ndere Troupe Uganda
4:00 – 5:00 Fashion Show
5:00 – 5:30 Sangea Drum Session
5:30 – 5:40 Calypso Alberta
5:40 – 5:50 Joseph Hassan
5:50 – 6:00 Silas
6:00 – 6:10 Teresah
6:10 – 6:20 Samjey and Samjana
6:20 – 6:50 Elemo Ali/Abdi Ibrahim/Turtu Shamil/Moftaha Abduro/Ayub Kadir/Ahmed Amin
6:50 – 7:00 Murteessaa Hajji
7:00 – 7:10 Dr. Biz
7:10 – 7:20 Jayde
7:20 – 7:30 Ceda
7:30 – 8:00 Nashie/Americano Blessing/Let me fly
8:00 – Equalizer Kamo
The Agenda
Africanival Arts Corner Schedule,
Muttart Theatre, Edmonton Downtown Library
Sunday June 4, 11am-5pm
Sunday, June 4, 11AM – 5PM
11AM – 2PM, Exhibition, Edmonton Black Heritage and other artists in the community
1PM – 2PM Screening, Edmonton Black Heritage
2PM – 3PM Screening, Edmonton Black Heritage
3PM – 4PM Fireside Chat with Kathryn Fasegha
4PM – 5PM A letter to "Amai"
4PM – 5PM Short Films by Movie Producer, Femi David, aka Big Ben/Olu Rock
5PM – 6PM Untold Stories of Black Women in Edmonton – A Telus TV docuseries preview and Q&A discussion with the producer and director by Agenda item for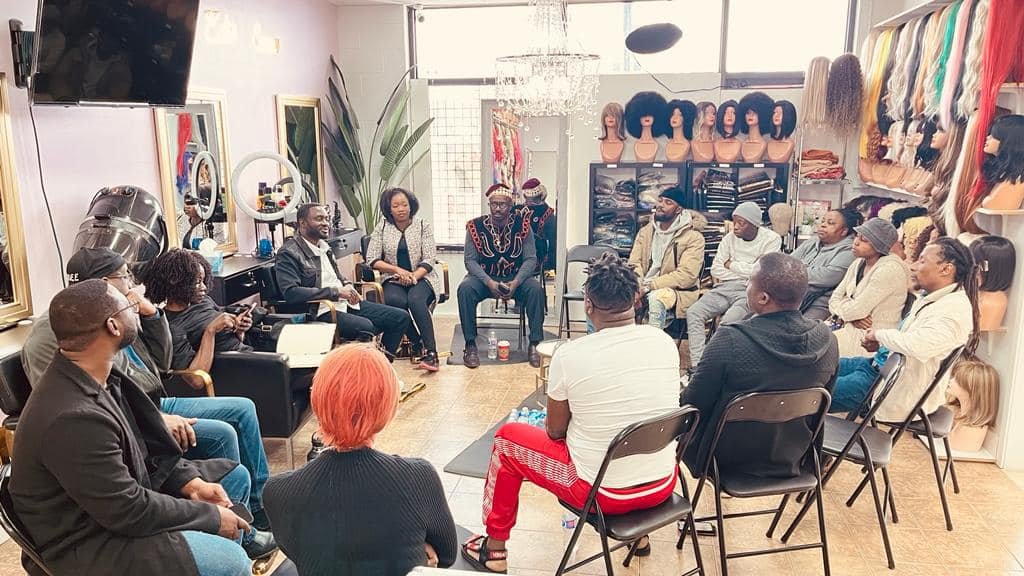 A big thanks to the artist who came out to the Africanival meeting with the artists. Also we thank Edi World of Glamour for hosting this meeting in their elegant space. Our sincere appreciation to all the Team Africanival members present.
The next meeting is on Saturday, May 13, with those interested to be vendors at Africanival 2023, as well as, the audition for models for Africanival Fashion Show, with fashion designers, media, and influencers, to be hosted by Bulk Buy Wholesale West –
11709 154 St, Edmonton, AB T5M 3X9.
Any question about Africanival 2023, please contact Event Manager, Anna on (780) 340-0476 or Volunteer Manager, Adi on (587) 989-3793.
Africanival is to share and celebrate with Edmontonians, the colorful, rich, inviting and diverse cultures of peoples of African descent in Edmonton and beyond.
Sponsors
To share and celebrate with Edmontonians, the colourful, rich, inviting and diverse cultures of peoples of African descent.
 An opportunity to reach out to, attract potential customers from over 20,000 Albertans of diverse communities in a fun, engaging and respectful way. 

Volunteers
Volunteers will be involved in planning the event, sit at the planning committee. They will lead sub-committees which will be focused on specific art forms such as poetry or music performance. They will be involved in outreach and be communicating the word out to the community.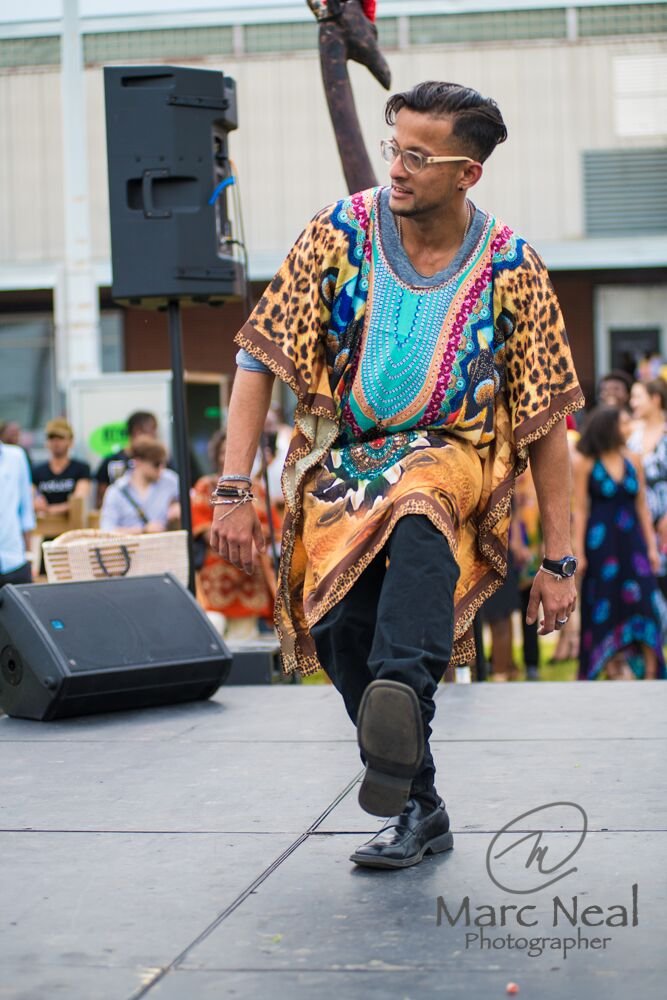 Fashion Show
Cultural Performance
Gospel Hour
Kids Corner